Simon Faithfull
0º00 Navigation
0º00 Navigation Part II: A Journey Across Europe and Africa, 2023

This installation forms part of a body of work called 0º00 Navigation by artist Simon Faithfull. It relates to two epic journeys he undertook in order to trace the 0° line of longitude (the Greenwich Meridian) across the planet. It seeks to explore the paradoxes and absurdities of this hypothetical line.
The 38 paving stones are engraved with drawings made by the artist as he travelled south along the Greenwich Meridian through France, Spain, Algeria, Burkina Faso, Togo and Ghana. Depicting what he saw along the route, the stones' orientation and location echo Faithfull's journey following the invisible Greenwich Meridian, which runs only 500 metres to the east of here.
Courtesy the Artist and Galerie Polaris
Co-curated with ARUP Phase 2
——
Two films documenting Faithfull's journeys, available on this webpage, will also be on show at Cody Dock Gallery Saturdays and Sundays 1-5pm, until 1st October. 
0º00 Navigation Part I: A Journey Across England shows the deranged journey of a figure obsessively following the Greenwich Meridian across England. Always seen from behind, he first swims out of the sea where the Meridian hits the South Coast at Peacehaven in Sussex. The solitary figure emerges from the water carrying a hand-held GPS device and, using this device proceeds exactly north along the 0º00'00" line of longitude. Any obstacle encountered is negotiated – fences climbed, properties crossed, buildings entered, streams waded, hedges crawled through. The figure gradually makes his way up through London, the Midlands and finally re-enters the sea at Cleethorpes, Lincolnshire, before swimming away northwards.
0º00 Navigation Part II: A Journey Across Europe and Africa is a slideshow depicting the second journey the artist made tracing the Greenwich Meridian. Made in 2015, it depicts a figure always seen from behind, standing on 0º00'00" line of longitude at 80 locations across Europe and Africa. As the slideshow progresses, the landscape around the figure shifts from the north coast of France, to Spain, to Algeria, Burkina Faso, Togo and finally to the south coast of Ghana, where the 0º line of longitude disappears back into the ocean.
As part of the project, Faithfull has also produced a booklet with his travel notes from Europe and Africa – pick up a free copy from the Cody Dock Gallery or click the download link below.
Supported by
Biography
Simon Faithfull was born in 1966 in Braziers Park – a utopian commune in Ipsden, Oxfordshire. He studied at Central St Martins (1985-89) and the University of Reading (1994-96). His work has been described as an attempt to understand and explore the planet as a sculptural object – to test its limits and report back from its extremities. Using his own body, and often assembling a team of scientists and technicians to help him, Faithfull brings back a personal vision from the ends of the world. His practice takes a variety of forms – ranging from video, to digital drawing, installation work and writing.
Faithfull has exhibited widely in the UK and abroad. In 2010, his largest permanent public artwork to date, Liverpool-to-Liverpool (Lime St. Station), was unveiled at the centre of Liverpool, UK. The work comprises 181 drawings made on a journey by container-ship, train and bus from Liverpool (UK) to Liverpool (Nova Scotia) – these drawings were then sandblasted into York paving-stones. His work is held in a number of public collections including Centre Pompidou, Paris and the Government Art Collection and Arts Council Collection, UK. Faithfull is a Professor at Slade School of Fine Art, London. He lives and works in Berlin.
Watch 0º00 Navigation Part I: A Journey Across England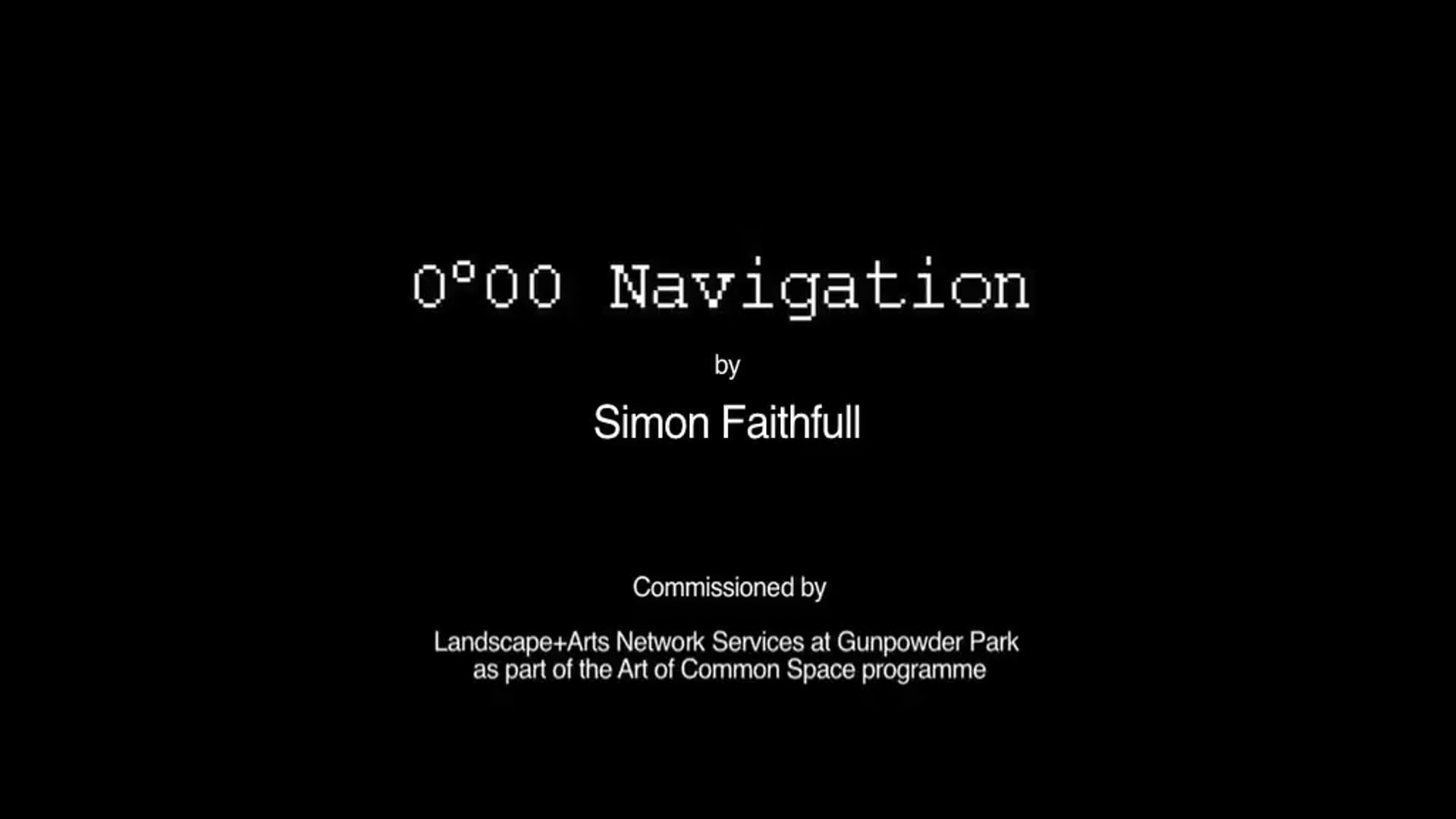 Watch 0º00 Navigation Part II: A Journey Across Europe and Africa